2019-2020学英语高一上册课标基础第7期答案
发布日期:2019-12-09
上传者:1IE***BH
投诉
  学英语答案2019-2020学英语高一上册课标基础第7期答案
  下面是2019-2020学英语高一上册课标基础第7期答案
  更多 学英语请微信公众号搜索"答案易对网"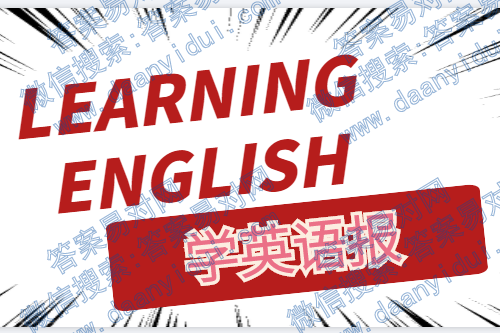 第1版
  单词
  I. 1. upset 2.tip
  3. prefer 4. recover
  5. recognize
  6. expression 7. native.
  8.entire
  II. 1. exactly 2. disagree 3. spelling
  4. Actually
  5. based 6. determined 7. frequently 8. dusty
  9. dislikes'10. reliable 11. finally
  12. organization
  短语
  I. 1. through 2. down 3.on
  4. in'5.about
  Ⅱ.1. is fond of
  2. graduated from
  3. made up her mind 4. At present
  5. make full use of
  句子
  I. 1. There was a time when 2. It is no pleasure travelling
  3. she hadcome
  4. find it hard to
  5. There is no such thing as.
  II. 1. William ran so fast that I couldn't catch up with him.
  2. Mr. Smith insisted that we (should) accept these presents.
  3. It is his right attitude to towards the job that makes him
  what he is today.
  4. With lots of books in his bag, the. boy walked very
  slowly..
  5. Even if you have no experience, you can do the job well:
  语法
  I. 1. Nancy said that she would go to Florida for her holiday
  the next/following day.
  2. Susan said that she had gone there to visit a friend the
  day before.
  3. The man ordered/asked his servant to clean the tables
  again.
  4. Greg asked/warned me not to park in his place.
  5. They said/asked, "Will there be a tasty meal for us?"
  6. My mother said to/asked me, "Where did you go last
  night?"
  7. I said to the policeman, "Please help the poor. lady."
  8. The doctor said to/advised him, "Stay away from junk
  food."
  II:1. are getting married
  2. takes place
  3. starts
  4. Are you going
  5. am leaving
  6. is seeing a doctor
  7. are you doing
  8.leaves
  上期参考答案
  第2-4版
  1-5 CACAB
  6-10 AACBC
  11-15 BACCB
  16-20 ABCBA 21-25 BBDBC
  26-30 ADBDC
  31-35 DCCAA 36-40 EAFCG
  41-45 CDBAB
  46-50 CBACD
  51-55- ABDCA
  56-60 CABDD
  61. chances
  62. are
  63.which/that
  64. offering
  65.agreement
  66.up
  67. reliable
  68. recently
  69. the
  70. to provide
  短文改错
  第一句:the→a
  第二句:ask前加to
  第三句:work→working
  第四句:去掉 about; answers→answered
  第五句:usually-→usual
  第六句:that→what
  第七句:gradual→gradually;or→and
  第八句:teacher→teachers
  书面表达
  One possible versien:
  Dear Jack,
  Learning that you are fond of the Chinese instrument
  erhu, I'm delighted to recommend Mr. Wang to you, who is an
  excellent erhu performer.
  Mr. Wang has put on lots of performances with great skill.
  As a teacher, he is famous for being patient and strict with his
  students. He is really happy to be your teacher after knowing
  that you'd like to learn it. By the way, Mr. Wang is free every
  Saturday morning.Please let me know whether the time
  suits you or not and I will make an appointment for you
  with Mr. Wang.
  Looking forward to your early reply.
  Yours sincerely,
  Li Hua
如果遇到其他问题,请添加售后服务
QQ群:993749835