2019-2020学英语高一上册课标基础第8期答案
发布日期:2019-12-09
上传者:0JA***EJ
投诉
  学英语答案2019-2020学英语高一上册课标基础第8期答案
  下面是2019-2020学英语高一上册课标基础第8期答案
  更多 学英语请微信公众号搜索"答案易对网"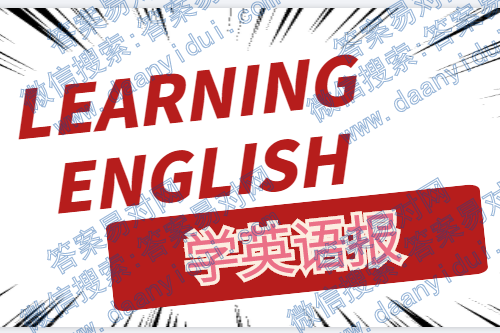 第2-3版
  词块英汉互译
  1. right away
  2. rise and fall 3. think little of
  4. tens of thousands of 5. give out off 6. quite a few
  7. turn to help sb. 8. wake up
  9. put up shelters
  10. in the open air 11. be proud of ..
  12. express one's thanks to sb.
  13. raise money
  14.仿佛,好像
  15.世界末日
  16.严重受损,破败不堪
  17.吹走
  18.被在废墟下19.倒塌
  20.派到21.掘出,发现22.众所周知
  23.掩埋死者
  24.许多,大量的25.救援人员
  阅读任务
  I. 1. deep cracks:smelly gas
  2. reached more than 400.000
  3. trapped under the ruins
  4. Fresh water
  II. 1. They ignored these events and were asleep as usual that
  night.
  2. Animals were also greatly affected by the carthquake.
  3. The army brought hope to survivors
  Ⅲ.1. strange
  2. cracked and burst
  3. shocked
  4.suffering
  5. factories, buildings and homes
  6. Water. food and clectricity
  7. to help the rescue workers
  8. began to breathe
  Ⅳ.1.who
  .2. powerful 3. causing
  4. ruins
  5.seriously
  6. was destroyed
  7. factories
  8. to dig
  9.the
  10.by
  Part Warming Up Reading
  I. I. suffering
  2. extremely
  3. injured
  4. were destroyed 5. useless
  6. shocked; shocking
  disasters
  8. clectricity
  9. burying
  10. reporter
  II.1. were rescued from
  2. in ruins
  3. were dug out 4. as if/though 5. were trapped in
  III. 1. Mr. Brown was too frightened to move when the car
  nearly hit him.
  2. After the disaster, not all the people lost heart.
  3. On hearing the good news, my sister phoned her friend
  right away.
  4. My respect for him was at an end when I saw him doing
  damage to a shared bikest
  5. Peter thought little of the advice given by his teacher and
  failed the exam as a result.
  Part 2 Learning about Language
  I. 1, gave out
  2. put up
  3. was damaged
  4. frightening; frightened
  5. woke up
  II.I.whose
  2. that/whom/who 3. who
  4.that
  5. that/which 6.that
  7.whose
  8. that/which 9. that
  10.that
  III.1. We are going to interview the writer whose new novel has
  been well received by the public.
  2. Did you visit the museum that/which was built fifty years
  ago last weekend?
  3. The washing machine that/which Mrs. Green bought a
  month ago is out of order
  4. The police are looking for the little girl that/who got lost
  yesterday.
  5. What do you think of the movie which/that was directed
  by Spielberg?
  Ⅳ.. whichthat
  2. whosth
  3. whose
  4. which that
  5. whothat
  6. who that
  7. which/that
  8. that which
  Part 3 Using Language
  I.1. congratulations 2. cvclists
  3. sincerely
  4. headlines
  5. outline
  II.1. be proyd
  2. Judging by/from
  3. expressed his thanks to
  4. As we Know As is known to all
  5. have tomeone repair
  第4版
  阅读理解
  1-4 BADB
  完形填空
  1-5 CBDAC
  6-10ADBCC
  11-15 BAADD
  16-20 BCDAB
  阅读填空
  1-5 FEBDC
如果遇到其他问题,请添加售后服务
QQ群:993749835